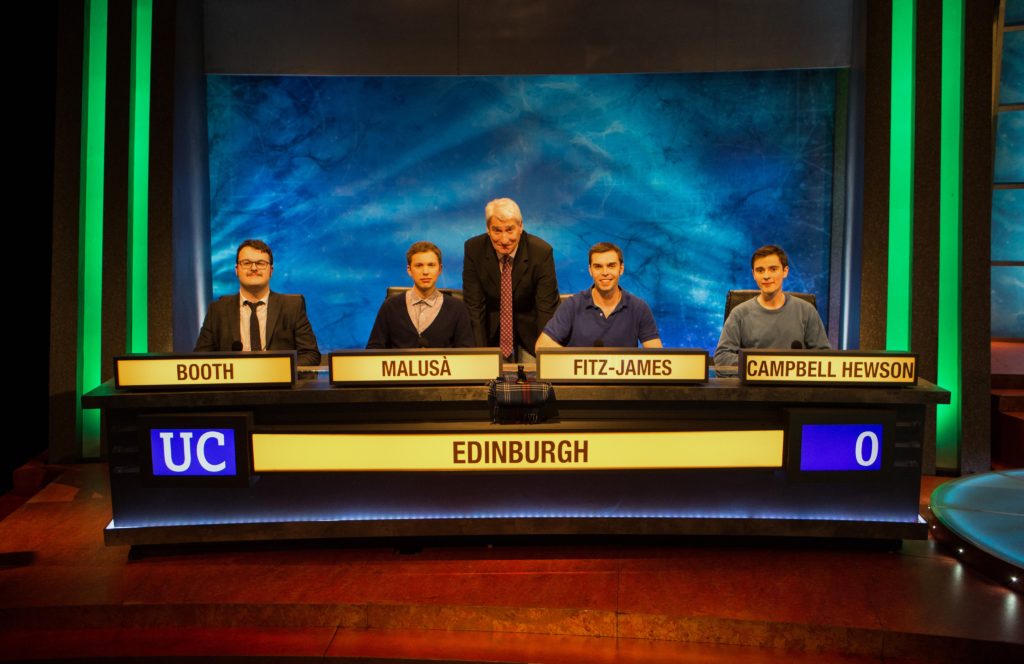 University Challenge is a British institution. On the air (with only a few years' interruption) since 1962 much has changed about the show. The questions are a bit different, Jeremy Paxman took over from Bamber Gascoigne as presenter in 1994, and the production values are a bit better. But some things stay comfortably the same. The same appropriately twee theme tune still begins each broadcast, and the format is basically the same: two teams of four students, each representing a university or constituent university college, compete for their institution. Starter questions are quickest to the buzzer individual efforts worth ten points. If you get them your team gets to confer on a set of three linked bonus questions worth five points each. If you interrupt a question with an incorrect answer you lose five points. Simple as that. In forty-eight seasons a number of institutions have lifted the trophy, some more than once. But despite appearing on a near record twenty-five of those seasons, that honour had always eluded the University of Edinburgh, where I had been doing my PhD for a few years, always dreaming of going on the show.
For the students the journey begins sometime in the Autumn of the year before the show is broadcast. Each university has a different way of choosing the team. For most this involves a written test made up of questions sent by the producers. After several years of failure to get a team onto the show the University of Edinburgh decided to go one step further in 2015 and use the written test to whittle down the best 16 applicants, after which they do a live buzzer trial in imitation of the show, where a panel of judges chooses the final four team members, plus one reserve. The benefits of this more intensive selection process by the time we began our journey had become obvious.
In November 2017 Matt Booth, Marco Malusa, Robbie Campbell Hewson and I, along with our Reserve Zak Jeffcoat, were chosen to be the new team, following on from two consecutive semi-final Edinburgh teams. The rarity of having two semi-finalists in a row was not lost on us. Once an individual appears on University Challenge he is no longer allowed to appear in any subsequent seasons, even for another institution. To find enough people to keep filling successful teams year after year is unlikely. Nevertheless, as we got to know each other and practiced together the feeling that we had a good balance of knowledge and teamwork grew. And getting to know each other is a crucial part not only of working together as a team, but also of getting through the next stage.
Any institution of higher education can send a team forward for the show. There are usually a little over one hundred each year. But only twenty-eight of these will make it onto TV. In January the team of producers goes around the UK meeting each and every team, in pairs. They give you a live written quiz and interview you. They are of course looking for good knowledge in the quiz, but also to make sure that they'll be making a good show. In this you might make up for any shortcomings in knowledge by being outspoken, showing that you work well as a team and proving that your university has a good selection process (and you're not just the student union president with three of his friends).
Once all the interviews are done the producers make their decision and either give you a call (good) or send you an e-mail (bad). For the lucky twenty-eight the first round of filming takes place at the end of February, the second round a month after that, and the quarter-finals, semi-finals and final all in one big block a month after that, at the end of April.
The first round is a little bit daunting, because you really don't know what to expect until you get there. After your briefing, wardrobe and makeup, microphone checks and warm up, you've been leading up to it for so long you can be a bit dazed. And I doubt there's anyone who wouldn't be nervous about to be filmed, most likely for the first time in their lives, and under such pressure. Our first round match was against Sidney-Sussex College Cambridge. After something of a tentative start we were lucky enough to be against a team that didn't take advantage of our uncertainty. We were able to find our feet after a while and march reasonably easily to victory, 210 to 75. Although the experience of this match, being the first, was perhaps the hardest, the rest were a considerable step up in terms of opposition, and we would long for such an easy match before the end.
The second round match is a dangerous one as there is no safety net for the highest scoring losers to come back, as exists for the first round. If you have a bad day or get an unlucky draw, that can be the end of it. We certainly felt that sinking feeling as we came up against University College London, who quickly pulled more than one hundred points ahead in the first half. But no matter how far you are behind, at the halfway point there's always time to come back! We were able to come back and snatch victory on the very last question of the match, winning 180 to 160. Probably the tensest moment of my life.
The quarter-finals are a best two-out-of-three situation. Luckily for us, because after a narrow win against the University of Manchester we lost to Durham University before coming back in another very close game against Bristol (we were beginning to make a habit of those). These three matches having occurred in two days, they are a bit of a blur looking back!
To our disbelief, that meant that we found ourselves following in our predecessors footsteps. We had made the semi-finals! But we were there with the three teams considered the favourites from the very beginning: Durham, Darwin College Cambridge, and St Edmund Hall Oxford. With no enviable match up to be had, we were not displeased when we found ourselves with a chance at redemption, facing Durham for the second time. Having felt that we had not played our best last time around, we came in at least feeling like we could do better. After a completely level first three quarters of the match, we managed to storm away with the final few questions and won 180 to 110.
At last we came up against the formidable St Edmund Hall Oxford in the final. Interestingly, the matches are filmed two at a time, meaning that when you're filming the earlier rounds you get to see one other match each time. Strangely, we had always been paired with St Edmund Hall in our matches and so had watched them play throughout the competition. We knew this would be a tough match, but that meant we also knew that if we wanted to win we had to be aggressive on the buzzer. Both teams certainly went for it in that respect. We found ourselves in the unusual position of being ahead going into the final quarter! But like watching a mirror of our own previous matches St Edmund Hall took a few questions in a row and pipped us by five points going into the final question. Once again it seemed it would all come down to the last one, and by incredible luck we managed to snag it. We won by one of the closest margins for a final ever, 155 to 140. It was an incredible feeling to be part of such a great final, and to finally lift the trophy for Edinburgh as it was presented to us by novelist Sebastian Faulks.
We then had to keep it secret for a whole year until it was finally broadcast (starting in July 2018 but ending almost exactly a year later in April 2019). But in some ways it's been nice to see it unfold bit by bit and have that feeling last for such a long time. It was a thrilling experience from start to finish and we were very proud to be allowed to pick the Edinburgh team that would defend our title next year. We wish them all the best of luck!
You can watch University Challenge on Youtube at the following link: https://www.youtube.com/results?search_query=university+challenge