Alumni Blog & Events
Stay in touch to hear about upcoming alumni news and events.
Welcome to the alumni section of our Ponacka website, the original site at ponackaalumni.com has been taken down.
Anne's father, Okimau, started the alumni website in 1999 just prior to his death. We are pleased to continue the tradition of keeping in touch with alumni and hosting an alumni weekend every second year, in June, prior to the start of camp.
Members of the alumni association are contacted directly with news of special events and topics of interest. If you are not already a member, you can join by clicking on Become a Member.
Since 1983, Ponacka alumni have financially supported less privileged boys to attend camp each summer. The boys are selected by Big Brothers and Big Sisters Peterborough and they return to camp each summer. If you would like to support this cause, please click here for more information on the Suns of Sphairee!
The next alumni weekend will take place in June 2018. We welcome all Ponackians to return to camp for the weekend.  Families are also welcome and many alumni enjoy showing their wives/husbands and children what Ponacka is all about.
Toronto PHL Tournament - April 2017
April 1st we'll be hosting a PHL tournament at The Hangar (75 Carl Hall Rd., Intersection of Sheppard & Keele) from 2-4pm.
If you would like to join a team please email bockinglaura@gmail.com for more information!
Vancouver Alumni Night - September 2016
Toronto Ponacka Night - November 17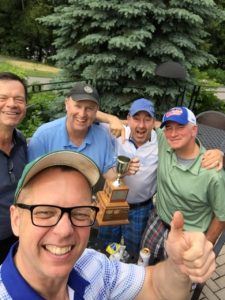 Attendees at the annual Ponacka Open (from left to right): Tim Turnbull, Hugh Mansfield, Hugh Shaw, Paul Molnar and Andrew Turner. Hugh Shaw was the runaway winner of the 2017 Ponacka Open.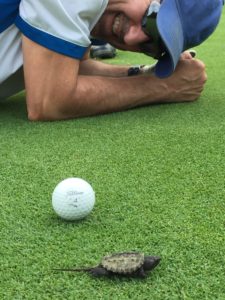 Paul Molnar was a close second in the plank vs. turtle race on 8th green. 
Great fun was had by all at Pheasant Run golf course. Thanks Hugh Mansfield for the excellent photos, we are already looking forward to the 2018 event!